Congratulations! you will shortly get an email with an attachment of the Top 10 Hairloss Reasons Report.
Alternatively you can click below to get the report now!
One more thing! Before you leave this page, we are running a great offer on a scientifically tested program that will take you from A-Z and provide you with a proven way to find the root cause of your hairloss and eliminate it now.
Yes, you can probably find all this information online for free, but you will have to dig through a TON of junk and waste your time on useless products or tips before you can gather all the correct info! Do you have time for that?
The information in the Hairloss Blackbook were collected from scientific testing as well as the author's first-hand fight with hairloss and hair thinning problems. The book shows you the exact step by step method that allowed the author to win the fight and eliminate hairloss.
What this means to you is that you will have easy to follow instructions that have PROVEN RESULTS. Which really means that you will be able to confidently follow a program knowing that your situation will improve, and knowing you are NOT wasting time on another "Magic Pill" program.
Unlike many hair loss products that are full of inaccurate information, the methods in this book have stood the test of time and are well known to produce lifechanging results to the people who learn and apply them. Are you ready for such results?
The Hairloss Blackbook Program provides you with the latest tested and proved scientific methods to fight hairloss. The book does not sugarcoat information or make false claims but rather it gives you all you need to know in the most honest and direct way possible which is the only way for you to get a real results and better looking hair now!
Read below for more info regarding the book and how to take advantage of this offer to get the BOLD Hair Fiber Starter Pack for FREE!
If you like what you see in the report and the Blackbook's promise below then we highly recommend that you take action and get this offer now because it will not be here for long.
Continue Reading For the Hairloss BlackBook Program Offer


HERE'S SOME OF WHAT THE HAIRLOSS BLACKBOOK TEACHES:
How you can prove doctors wrong and defy your "genetics" that are causing your hair to fall out strand by strand.

Learn the detailed SCIENCE and FACTS behind DHT and how it is making you bald.

Discover which foods and eating habits are actually causing your body to generate EVEN MORE DHT - and accelerating your hair loss. (this one might shock you!)

Get the simple steps to restore your body's hormonal imbalance that is causing your baldness in the first place.

TRUE FACT: Body Fat can affect your hair loss... but it's probably not how you think.

Put the "STOP and GROW" 2-step process to work for you and learn how to stop existing hair loss and start growing new hairs.

Uncover the facts behind scalp care... what you should be doing and what you should always avoid.

Learn about the simple, powerful "detox plan" that will kick-start your recovery process and put you on the fast-track to hair re-growth.
... AND MORE
Customers often say that The Hairloss BlackBook exceeded expectations when it came to the results of their hair growth after the program. What that means to you is that if you follow the program properly, you will start to see noticeable hair growth in AS SOON AS 6 MONTHS which really means to you that you will get closer to eliminating major hair loss problems from your life once and for all!
We are so sure that you will be satisfied with this book that we have partnered with the Hairloss Black Book Team to offer readers of the book our premium hair fibers for free!
The fibers will assist you in keeping your hair looking thick now until the Blackbook Hairloss treatment program starts kicking in.
We will send you the BOLD Starter Pack, valued at 32$ , FOR FREE, after placing grabbing a copy of the Hairloss Blackbook. Just send us an email with a proof of purchase and we will ship the fibers next day.
Not only that, but this offer comes with 3 other BONUS OFFERS mentioned below. This offer will BLOW YOU AWAY!

IS THE HAIR LOSS BLACKBOOK FOR YOU?
THE TRUTH is that it takes the average person anywhere from 6 months to 2 years to get the noticeable, full hair growth they deserve.
Now... if you would rather gamble away your chance of re-growing your hair on treatments that promise overnight results, then this Book isn't for you.
But if you are ready to...
Discover the TRUTH behind why you are losing your hair.
Uncover the REAL reason foams, creams and prescriptions aren't working for you.
Divulge into the SCIENCE behind re-growing your hair.
Learn about the only SOLUTION that is effective enough to stop baldness and stimulate your hair follicles to grow normally once again.
Take consistent action on this information to get back your hair.
Then click below to get The Hairloss Blackbook + 5 BONUS OFFERS.
The value of the package, if purchased seperately, EXCEEDS 400$.
Get EVERYTHING today for 47$ only!
 
BONUS OFFERS INCLUDED WITH THE BLACKBOOK :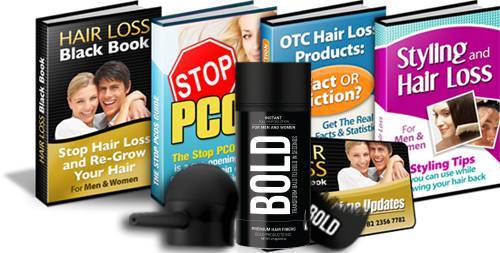 BONUS #1: Hair Loss Black Book (47$ Value)
This is the only system that has been proven to cure baldness and restore healthy, natural,lasting hair growth.This entire system is based on FACT and SCIENCE;it works to attack baldness at the source of the problem instead of simply treating the symptoms.

Click here for more information about what you will learn from this book.
BONUS #2: OTC Hair Loss Products: Fact Or Fiction (47$ Value)
Pull Back the curtain and get the facts about all hair loss treatments-OTC, prescriptions and even natural remedies.Find out what really works,how it works and what results the average hair loss sufferer can really expect to experience.
BONUS #3: Styling and Hair Loss (47$ Value)
This is the guide that all hair loss sufferers need to have at all times.With this guide you can discover which styling methods harm your hair loss,which ones don't and which ones can actually make your hair look thicker while it's growing back
BONUS #4 For Women:Stop PCOS (37$ Value)
This one guide reveals the truth behind one of the leading causes of womens's hair loss, PCOS.You will discover the details of the disease,treatment options and the dangers of this disease if left untreated.this is a must-read for any women...or anyone that has a women in their lift.
BONUS #5: BOLD Premium Hair Fibers Starter Pack (37$ Value)
Includes everything you need to conseal all signs of hairloss while the BlackBook program works.
Will be sent for free when you sent proof of purchase of the black book.
TOTAL VALUE= $412
TODAY's PRICE= 47$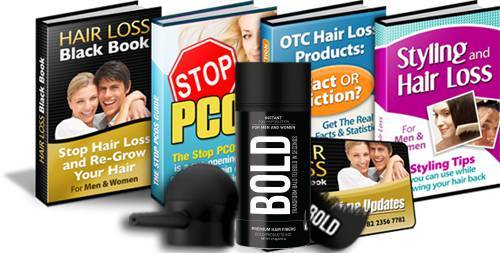 LIMITED TIME OFFER
GET THE HAIRLOSS BLACKBOOK PACKAGE AND BOLD HAIR FIBERS AT A FRACTION OF ITS NORMAL PRICE FOR A LIMITED TIME
**CRAZY DISCOUNT OFFER ** THIS IS ABOUT 87% OFF THE ORIGINAL PRICE.  
**FREE HAIR FIBERS ** YOU GET A FREE STARTER PACK HAIR FIBERS MAILED TO YOUR DOORSTEP FOR FREE!!
**FREE FAST SHIPPING** All books will arrive instantly (electronically) while the hair fibers will be shipped next business day after you send us proof of purchase and should arrive within 2-4 days!